William Penn Alum to Headline 143rd Commencement Ceremony
04/23/2018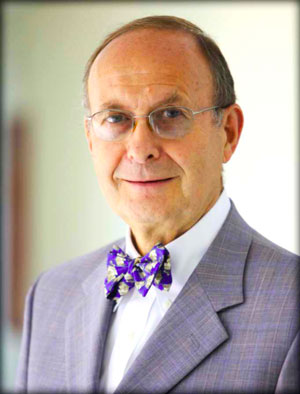 The 2018 Commencement speaker is a William Penn alum, former Board of Trustees member, and Board Chair. David Printy ('68) will headline the 143rd Commencement ceremony, on Saturday, May 5, 2018 at 10 AM. Following commencement celebrations, the William Penn University Alumni Association will hold the traditional Blue and Gold Ceremony on Penn Hall's front lawn. For more information about this year's commencement or to live stream the ceremony, visit www.wmpenn.edu.
About David Printy
Upon graduating from Penn, David Printy joined the U.S. Air Force, serving as a pilot and an executive officer of the squadron to which he was assigned at Danang, Vietnam. During his military career, he studied at the Institute for Aerospace Safety and Management at the University of Southern California. Upon his discharge from active service, David and his family made their home in Minneapolis, MN where he began an investment banking career with Interregional Financial Group (IFG.)  Shortly thereafter, David was chosen by Governor Al Quie to serve as Commissioner of Economic Development for the State of Minnesota. This valuable experience prepared him to build a successful investment management company which is now part of Bank of America. David continued to move forward in the fields of healthcare service and technology as a founder of start- up companies and new organizations which were funded by his first venture capital partnership with the founders/investors of Data Card, Control Data and Medtronic.
During the 1990s, David entered the academic world as Managing Director at the University of Medicine and Dentistry of New Jersey (Rutgers) and then as Chief Operating Officer of Drexel College of Medicine in Philadelphia. In 2004, he was appointed as Founding Managing Director of the Physicians Academy, a partnership with the Harvard School of Public Health and the University of Massachusetts' Isenberg School of Business, along with 22 medical schools across America.
In 2006, a unique opportunity presented itself to David and his family. He was contacted by CURE International to manage and build healthcare systems and facilities in Bangladesh, Afghanistan, Iraq, Syria, Egypt, Somaliland, Yemen, and the United Arab Emirates. The Printy family, now long settled in Massachusetts, had to make a challenging decision. He and his wife decided that it was an opportunity placed before them by the Lord, and they went. A three-year commitment became six years of living, working, and bringing God's word to the city of Al Ain in the Emirate of Abu Dhabi. David even brought a Bible as a gift to Sheikh Mohammed bin Zayed al Nahyan, the leader of the UAE, when they were together at majlis.
Today, David is leading innovation in healthcare delivery in the state of Connecticut as he serves on the Board of the Primary Care Coalition and manages a network of over 600 physicians. As of 2017, he has continued his venture legacy by co-founding TruDataRx, a company focused on reducing employee pharmacy benefit costs and improving clinical efficiency. With commitment to ongoing community service, David is active on the board of the Medical Benevolence Foundation in Houston, Texas, which supports healthcare services in Haiti, Africa and Pakistan as well as The Connection in Middletown, CT, an organization that serves those who struggle with major challenges such as poverty, homelessness, substance use, mental illness, abuse, trauma and neglect.  Most recently he was appointed to the Washington, DC-based Hudson Institute's working group, for religious pluralism, and the protection of Christians in the Middle East. Closer to home, David leads a men's Bible study at his church.
David and his wife Elizabeth, who is a faculty member of Bowdoin College, make their home in Maine. They have three children, two grandchildren and are protected by three adorable Corgis: Rosie, Dickens, and Huw.
For more information, contact:
Miranda Keeler
Communications/Event Coordinator
William Penn University
(641) 673-1078 | keelerm@wmpenn.edu