Roger Gross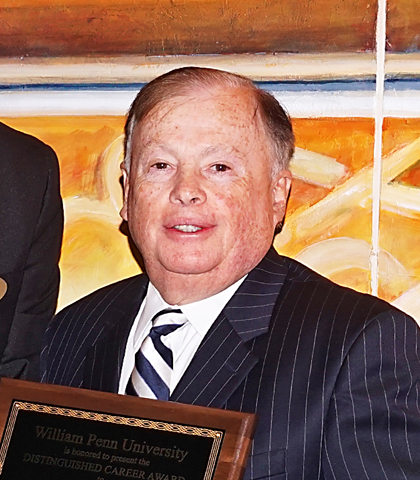 Roger Sullivan Gross is a man who has tackled a variety of roles since his graduation from William Penn in 1966.  As a county legislator for Putnam County, he consistently represents over 12,300 residents in his role.  Prior to that, he served as a teacher (retired), and has been an elected Board of Education representative, served on a town board, and has also served in the United States Air Force as a Lieutenant Colonel (retired).
Gross describes his time at William Penn as a challenging experience that dared him to focus, study, and mature.  Specifically, he remembers the William Penn emphasis on leadership skills throughout his presentations as well as debates on issues that were critical during the years he attended school.  Diversity was also a contributing factor to his development as a student, professional, and human being.
"Meeting students from all areas and walks of life [helped me to] realize and develop a better understanding and appreciation for diversity," he recalls.
Being appreciated and recognized by professors contributed to his success as a student.  "[I felt valued because of the] classroom environment, discussion, and recognition [of] being appreciated by professors," Gross said.  Professors also sparked his growth by encouraging discussion on an assortment of political issues
"[We were encouraged to] look beyond the headlines," he said, specifically remembering classes with Professor Simmons, which encouraged an "exchange of ideas".
Gross recalls learning about the Corn Belt and livestock from his fellow students and professors. He also remembers working throughout his schooling to help pay for college. When asked about how William Penn helped him to achieve his professional goals, he said he was able to mature during his time at William Penn as well as focus on life and direction.  "[I came to a] realization of the importance to work hard and also set goals," he concluded.
Education
William Penn, 1966 - Bachelor of Arts - Political Science/Economics
SMU - Dallas, Texas
Recognitions
Bronze Star - USAF
2003 Teacher of the Year
1997 Teacher of the Year
Educator of the Year