Jerry N. Ellis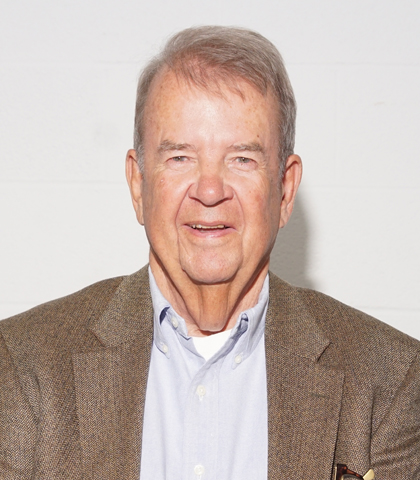 Serving as current Chairman on the William Penn University Board of Trustees, Jerry N. Ellis ('58) has plenty of experience in leadership within and outside of the University. Born in Iowa City, Iowa, Jerry moved around southeastern Iowa during his youth, graduating locally from Oskaloosa High School in 1956. Knowing that college was the best path for him, he chose to continue his education at William Penn College.
After his time as a student at William Penn College from 1956–1958, Jerry transferred to the University of Iowa, completing his BBA in 1960 and his MBA in 1962.  Although he may have transferred from one college to another, Jerry maintains that William Penn was the solid foundation of his higher education experience.
After his college education, Jerry joined the international accounting firm of Arthur Andersen in 1962 and spent 38 years with the firm in Dallas, Texas; Madrid, Spain; and Chicago, Illinois. His hard work and dedication paid off and he was admitted to the firm's partnership in 1973. Over the years, he served as an audit partner on clients, ranging from large international public companies to smaller non-profit businesses. In the last few years, he was a project leader for the design and development of firm-wide audit training.
Jerry and his wife Lucy (Calef) Ellis moved their permanent home to Pella in 1998, and from 2000–2006 he served as an adjunct professor, teaching advanced auditing at the University of Iowa. From 2001–2009, he served on the Board of Directors and Audit Committee of two public pharmaceutical companies (Sciele Pharma and Akorn, Inc.).  He joined the William Penn Board of Trustees in 2004 and became Chairman in 2011.  Jerry has coached youth soccer in Pella for 12 years and continues to do so, and he also scouts future opponents and serves on the film editing team for the girls' soccer coach at Pella Community High School.
Other leadership positions he has held include: Dallas Chapter President of the National Association of Accountants; President of the Board, North Texas Food Bank; President of the Board of the Special Care School for Developmentally Challenged Students; President of Lake Highlands Soccer Association; President of Pella Soccer Club; Chair of Pella's Fall Festival; and Vice President of the Consistory of Pella's First Reformed Church.
Jerry and his wife Lucy have three sons: Brooks (Christie) Ellis of Dallas, Texas; Berry (Sheila) Ellis of Wilmette, Illinois; and Collin (Stephanie) Ellis of Houston, Texas. They currently have eight grandchildren: Ford, Caroline, Lauren, Jack, Ryan, Keegan, Max, and Quinn.
Education
William Penn, 1956-1958
BBA-University of Iowa, 1960
MBA-University of Iowa, 1962
Organizations
President of the Board of the North Texas Food Bank
President of the Board of the Dallas Chapter of the National Association of Accountants
President of the Board of the Special Care School (for special needs children)
President of the Lake Highlands Soccer Association
Chairman of William Penn University Board (member for 10 years plus)
President of the Pella Soccer Club
Elder and Vice President of the Consistory, First Reformed Church of Pella